Post by ANTAGONIST TRAD WITCH 🌹💙 on May 18, 2020 21:02:39 GMT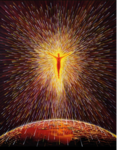 I HAVE A SERIOUS QUESTION, and maybe others here on the Forum have pondered this as well: While reading this, how do I manage, or get past, or compensate for such figures as "The Father," "Lord," "Jesus," and similar (male) address? I have a problem with this, because since my COMING OUT of the Abrahamic religions—especially Christianity, Islam, and a Hebrew sect I was in—I'm completely turned off by anything "Patriarchal."
I only resonate with either the Feminine aspect of Divine Mother, Our Queen, Divine Feminine; or I can resonate with Sophia and Creator Barbelo, or the balanced (energy) of an Androgynous Creator—Father Mother Creator. To try and read these tractates of the Nag Hammadi with holding onto a patriarchal figure—Father, Jesus, Lord, etc., is like "going back into Egypt" for me! Any thoughts? 🌞🙏.
There is a lot of stigma regarding the terms you are mentioning here, but that's part of why we are writing these articles. As you continue reading the articles, they will explain in detail how these terms came about and how they were distorted by the Overlords/archons. I can't explain that here because it would be confusing, but we will start explaining this in the next article.
For now, I want you all to know that the Universe (the KHAA) is Feminine just like the WPP say. And the Queen is our Spiritual Mother--nothing has changed, and the Gnostic text say the same thing. I am not so hot on the Tripartite Tractate gospel because it is written from a completely masculine perspective. There is a lot of great info in the Tractate, but there are distortions, as well. This gospel differs in many essential ways from the others. Anyway, all this will make sense as we release our articles.
The Gnostic texts are all about Sophia/Divine Feminine/the Queen and her story, and explain even further who she is, compared to the WPP. These articles would have been perfect as a
6th Level of Learning
, and they would have completed the entire WPP work.
🌹💙 Thank you for taking the time to clarify this. Please reinforce the Feminine (or a balanced Androgynous Creation Energy) as much as possible throughout the Gnostic Series in your articles—I know you will, as reading your explanations is going to be easier for me to digest. I will tread through the Nag Hammadi with its patriarchal overtones as best I can—Mind Over Matter! 😉 Bright Blessings to Everyone. 🌞🙏